Hi lads,
We've got this new season up and running!
The System
As you probably noticed there two groups containing 6 teams: Group A and Group B. The first and the second team in each group will play semis and finals for the ENSL 13 Champions title. The third and fourth teams in each group will also play semis and finals and win the second title.
The schedule is ready, each game will be set for default time by admins. To change it, please contact x-man or Danny.
The Rules
Keep in mind that new set of rules is ready. There are many new points that might be controversial for you so please make sure you read them carefuly. There might be some slight updates in few days in case we forgot to mention about something.
ENSL Plugin 1.2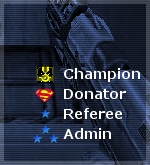 I've finally put the new plugin / server package together. Basically the changes are following:
Stripped icons to: admin, referee, donator and champion
Added command /makeroom to kick specs
Works with the new site
Fixed forfeit clock bug
Added waypoint fix by Asmodee
Added ns_ayumi_e_b5
You can download it here. Please install it, its mandatory.
Yours
ENSL staff